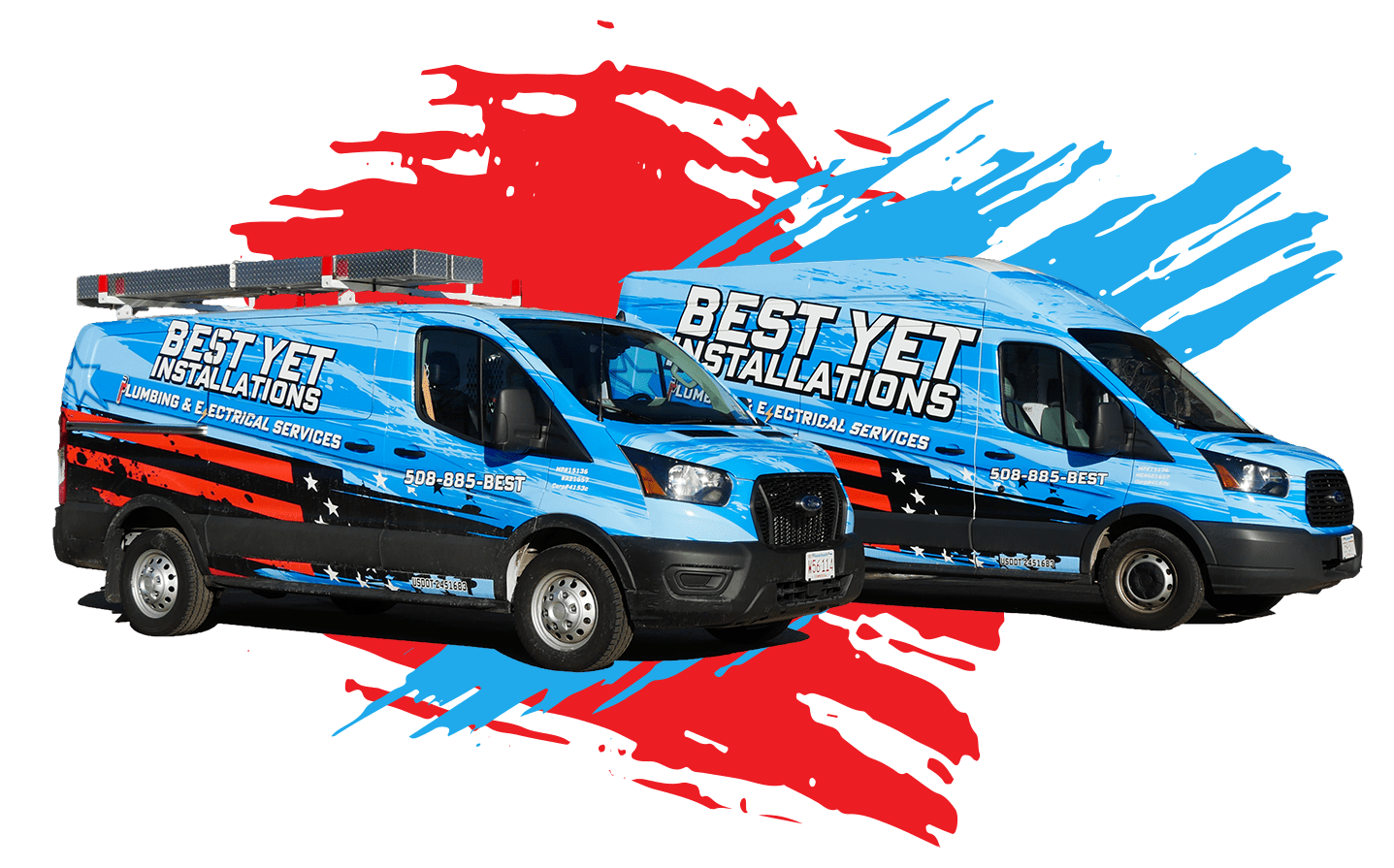 Trained Professionals at Your Service
Best Yet Installations is a Massachusetts-based plumbing, electrical, and appliance installation company that has completed projects all over the state for over twenty years. We are family-owned and operated, and our experienced staff is skilled, fully trained and licensed in MA, and adept at problem solving.
Quality Plumbing & Appliance Installation Services
We're your local one stop shop for plumbing, electrical service, and appliance delivery and installation. We've built a reputation for expert service and repair with dependable appliance delivery and proper, painless installation. We also have expert electrical installations and upgrades to have your home or business operating at peak performance. Our trained and licensed staff bring your home up to plumbing and electrical code if necessary. We maintain a clear line of communication with our clients before and during the entire process, calling them to confirm their time frames and a quick check-in before our arrival. We strive for complete satisfaction, and take pride in our workmanship.
"Could not thank this company enough for their amazing hard work and customer service. They not only take care of you, but make sure any future problems you could run into get taken care of as well. I highly recommend anyone who needs help to reach out to them."
"Could not get ahold of any plumbers. Got in touch with Ryan and he had someone out the same day. We were having a multitude of problems that these guys came right out for. Very responsive, customer friendly, and reasonable. Will definitely recommend!"
"Jon and Kincaid were great! They even went the extra mile to haul away the older stove after installation. Very friendly and on time. I would recommend to anybody. 10/10."
"Very efficient and unobtrusive, great communication, offered various affordable options, readily addressed unforeseen problems. We're very pleased with the upgrades of our two bathrooms."
"I had a Sears home warranty program (phone logistics were ridiculously difficult, taking nearly 3 months to resolve) but the technicians from Best Yet Installations came today to install the new microwave and they were great in every way: professional, competent, quick and thorough."
"Perfect installation of my new dishwasher this morning. I've been buying appliances for 30 years, and these guys are the best by far I've ever seen. Seriously good work. Thanks!"
"Best Yet resolved a rather unusual problem which I discovered after the installation of a dishwasher. They reviewed the circumstances and then promptly responded with a fix within just a few days. The onsite plumber was polite and efficient and all is well in my kitchen! Thank you Best Yet. You've lived up to your name."
"Just had a gas stove delivered and installed at our place in Cambridge. These guys are wonderful! Fast, helpful and friendly!"
"Installed our dishwasher today in 30 minutes. Polite, professional, & neat. Outstanding service."
"Fantastic experience with these folks. I bought a new gas range from Best Buy and these guys delivered & installed for me. Brett and Alex arrived on time, were super nice and worked very quickly!"
"Very happy with dishwasher installation. They disconnected and hauled away my old unit. Upgraded power and installed new one. Stayed to make sure everything ran well. Will call again!"
"Clean, professional, and on time. They installed my new dishwasher for me. They were polite and professional and did an amazing job. 10/10 would highly recommend. Brett and Brandon were great and should be recognized as such."
"Prompt service. Courteous and professional. They know what they're doing! In and out quickly"
"Very professional and helpful! Will definitely call them again."
Our Core Values
We are a company built upon customer satisfaction, reliability, and professionalism. To us, there are four pillars on which to build from.

Quality Guaranteed
At Best Yet Installations, we stand behind our work, and strive for complete customer satisfaction.

Fully Licensed (MA)
Every team has fully licensed and certified members to work on hookups of critical systems.

Professional Team
All of our team members are trained in more than installing, but in courtesy and professionalism.

On YOUR Schedule
We know you're busy, so we work with you to find a date and time that works for your schedule.
Best Yet Installations is your local plumbing, electrical, and installation expert. We have a long track record of dependable delivery, precise installation, and exceptional customer service. If you need your brand new appliance handled right or need a quick plumbing or electrical fix, call Best Yet Installations today!